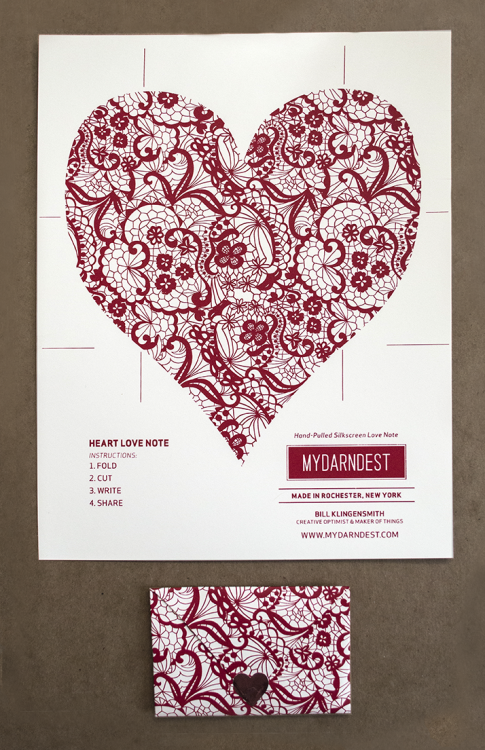 This hand pulled silkscreen print is a heart shaped design to be folded to crease, cut-out to create an envelope when finished. I know you have the skills and tools to collaborate with me to create this thoughtful and simple love note. The inside of the envelope allows you space to write your lover a sweet little note.
The love notes can be sealed with your favorite sticker to help seal your secret. You can also add a little slit with an Exacto knife if you are the crafty type who must be fully involved in the project. Then you slip the bottom tip into it to seal it without adhesive.
INSTRUCTIONS:
FOLD – Make sure you fold along the printed lines before you cut. This will ensure it to properly fold into an envelope.
CUT – Just like kindergarten, Cut out the heart along the edge of the printing.
WRITE – Tell your lover your Valentine secret. There is plenty of room on the inside folded panels to add your illustrations, stamps & stickers.
SHARE – fold it back up and share it the one you love.
SHIPPING:
I am sending these flat rate, USPS Priority Envelope. As many as I can stick in there, you pay $6.50. Order By Wednesday, February 10th. They should get there by Saturday, February 13. No guarantees on the mail service in your area. Order SOON!
---
** CHOOSE SELECT OPTIONS TO ADD TO CART **
[add_to_cart id="3286″]