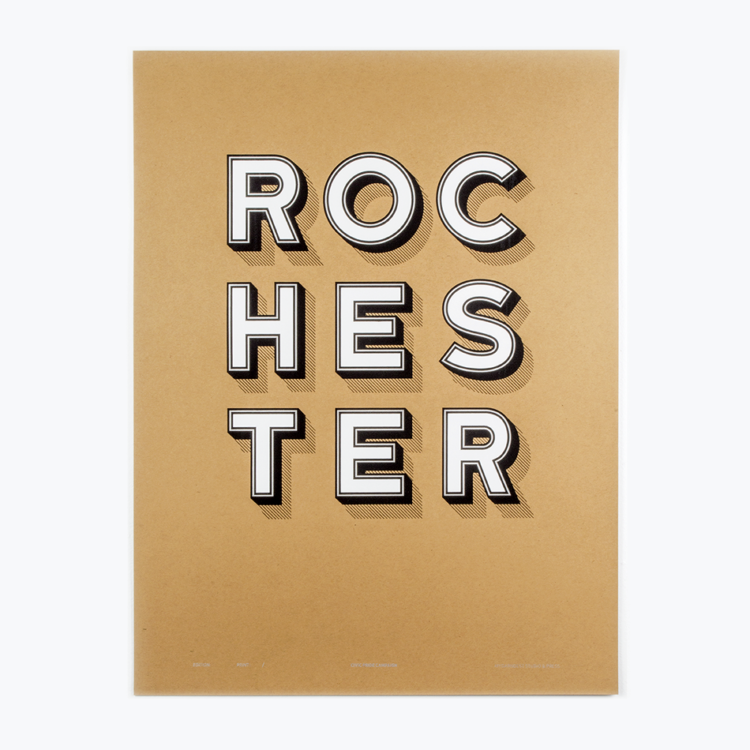 [add_to_cart id="3869″]
This is it! This is the first poster of a series I plan on running for a long time. I've taken this opportunity to create a print that maintains a relationship to my "Civic Pride Campaign" but fits into the higher art/design category. It is the perfect addition for those Rochesterians looking that contemporary image for their home or office.
This first version of the ROCHESTER STACKED poster is 19″ x 25″ on French Paper's Brown Box Kraft, 100 lbs. Kraft-Tone Cover. Printed with Speedball's White, Silver and Black Water Based Acrylic Ink.
I am only running 25 of each variable combination. What this does is make your print unique and collectable items. Plus, it keeps it interesting to me for creating new versions to print!
The design is something that i have been working on for a while. It started with 3D letters that I cut on my CNC. A lovely piece but something that was not a practical product for my fellow Rochesterians. One thing that makes this design even more of a regional design is the typeface was created by Tyler Finck of Finck Co. in Ithaca, New York. It's name is Katahdin and has its own wonderful story.
This poster is a hand-pulled screen print. Giving it that tactile feeling that only this process can produce. They are all number and signed by me, Bill Klingensmith.
All posters are shipped USPS in 3″x24″ Shipping tubes. They are ROLLED in butcher paper to protect the print and make them travel much better with less of a chance of damage. I do my … darndest to make sure they arrive to you in the best condition possible.
To learn more about upcoming editions, sign up for my email or follow me on INSTAGRAM. I share a lot of my story on this social platform.
---
Interested in purchasing this poster?
Add it to your cart and check out through my PayPal.
ROCHESTERIANS: Local pick-up at my studio with the coupon "local". This code removes shipping. I'll contact you about details.
[add_to_cart id="3869″]